Interesting People Named Ballew

---
[Top]
Historical Figures Named Ballew
Marshall Bill Ballew was a United States Marshall in the Oklahoma Territory in the 1800s. His picture is on the wall of the historical Plantation House resturant in Medicine Park, Ok. The walls of this picturesque resturant are covered with photographs of the old time movie stars and politicians that visited Plantation House when it was the center of a recreation area for rich people in the early days.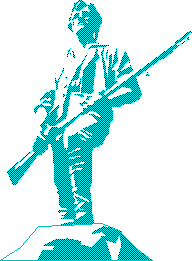 Charles Ballew was born in Virginia in 1695. His son, Charles, enlisted in the Revolutionary Army on August 4, 1776, and served for three years as a sargeant at different locations, including Valley Forge. He made $8.00 per month. For his service Charles was awarded land in Kentucky and went out there in 1780 and helped Daniel Boone establish Boonesborough. His name is on a monument listing the original settlers. Decendants are brothers Chip Ballew and Tim Ballew, listed in Ballews On The Web. Thanks to Chip Ballew for this information.
Bud Ballew was Chief Deputy Sheriff of Carter County, OK. Sheriff Buck Garrett (seated) and his Chief Deputy Bud Ballew. A large oil painting of this portrait is hanging at Ponder's Restaurant in Ardmore, OK. Circa 1912.
Scott Ballew was a Deputy Sheriff of Carter County, OK in 1935 (third from left in front row.)
---
Ballews In The News
Kenyon F. BALLEW, Plaintiff vs. USA
Kenyon (Ken) Ballew was shot and crippled by the BATF in a no knock training raid on his apartment.
---
Add your story about people named Ballew here.
---
If you can't hear music playing right now, you can download Crescendo by clicking on the Crescendo bar below. You'll love it!
<!IMG SRC="images//cgi-bin/counter/ron_ballew"><! Visitors Since 19 Sep 97><!BR>


Return, Top Page, Ron's Home
http://ballew.org/ballewin.html Updated January 15, 2005 by Ron Ballew